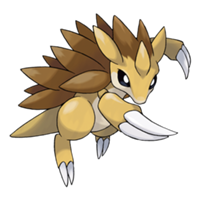 Sandslash (Japanese: サンドパン Sandopan) is a Ground-type Pokémon introduced in Generation I.
Biology
Physiology
Sandslash is a tall, yellow, mammalian creature with brown spikes on its back. It has two very long claws on each "hand" used for digging and battling. Sandslash can curl up to a small size just like its pre-evolved form Sandshrew, but it is of a much larger stature which enhances its defense.
Evolution
Sandslash evolves from Sandshrew at level 22.