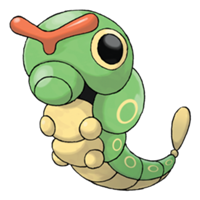 Caterpie (Japanese: キャタピー Kyatapii) is a Bug-type Pokémon introduced in Generation I.
Biology
Physiology
Caterpie is a worm-like Pokémon that is mainly green in color with a tan underside. Just below its head are four tiny legs that are used only for movement. On top of its head is a red, "y-shaped" antenna, which can be used to produce an odor used in self-defense, in case something tries to hurt it.
Special abilities
Caterpie has the ability Shield Dust, which negates all status effects that are side effects of other moves. When threatened, it can release a strong odor from its antenna, which it uses to ward off predators.
Evolution
Caterpie evolves into Metapod at level 7 and then Butterfree at level 10.